Nurcan Baysal is award-winning Kurdish author, well known journalist, human rights defender and columnist.
In 2018 she was named Global Laureate for Human Rights Defenders at Risk by Front Line Defenders, In 2010 she won the Women's World Summit Foundation (WWSF) prize for Women's Creativity in Rural Life.
She received the prize for founding the 'Ozyegin Foundation Rural Livelihoods program', which sought to empower women in the Diyarbakir region.[2] In 2012, Nurcan also received a 'Turkey's Changemakers' award for her work on rural development. Nurcan is a founder of the Diyarbakır Institute for Political and Social Research (DISA)
Jose Miguel Rocha at PPJ interviewed her. We hope you enjoy this very interesting interview.
Part 1.
If one googles your name, one can find endless articles published by international organizations and media about your fight for human rights in Turkey (as well as the repression and persecution of the Turkish state against you). How helpful that is? Does it help you to "look up to the sky" and see that "the stars are still there"[1]?
All this international solidarity helps me to keep going. In the last three years, I have been detained 3 or 4 times, experienced some police home raids, and took a 10-month prison sentence for one of my articles about what happened in Cizre (a Kurdish town). Maybe more than 20 investigations have been opened against me, I do not even remember how many. But I am not in prison mainly because of this international solidarity. In my first detention, in 2018, after the Turkish operation in Afrin, some 40 members of the Special Operation Forces with Kalashnikovs entered my home. They tried to break down the door, but, as it was so strong, they could not and they broke down the walls. At that time, due to all the international protests – in Diyarbakır as well-, they released me after 3 days. This international solidarity protects me.
When you write something in Brussels, London or Paris, or when you tweet something about people like us, living under pressure in Turkey, that is important, it affects our lives. I am happy that I have this international solidarity.
When you look at the Kurdish region, there are few people who write to the West about what is happening and all the human rights violations in this region. I believe we need to struggle on the front line, I think it is impossible for us to win by struggling at the back. I believe in speaking out loudly, in struggling for human rights, democracy and peace. These are things that should be loudly proclaimed. This is my way and, because of that, I am sometimes more targeted. Being on the front line, struggling here in Diyarbakır, that makes me more of a target.
For example, in my last detention, at the end of March, during the second week of lockdown in Turkey, they took me to the prosecutor's office, where he asked me about a campaign in the country about political prisoners. As human rights defenders, we wanted them to be released – there was a hashtag #releasethepoliticalprisioners. He asked me why I had used that hashtag and I told him that probably one million people in Turkey had used it that week. Then I asked: "Why 1 million people are not here but I am? Why did you detain me?". His answer was: "Because you are not an ordinary person, you have an effect on society, you need to be more careful about what you are writing".
How do you see that influence you have on other people, especially in the region you live in?
Sometimes, when I go to Sur – the 7,000 year old historical center of Diyarbakır, where the curfew continues -, there are some girls and young women who want to kiss me and say that they follow me. They say they want to be a strong woman like me. Being an inspiration to them makes me really happy. I am also from that poor area, like them. We are a 10-children family, my father is still a grocery man in Sur. I have influence in the East and but also in the West of Turkey, because there are few people writing from the Region. Sometimes I walk in Istanbul, and some university students, some young Turkish people, tell me they read what I write and I get really surprised. Once I had coffee with some students and they said to me that they did not know about the Kurdish problem. They felt so sad about what is happening in Diyarbakır and told me their hearts were with me. When I go to the West of Turkey, I see that many young people read what I write and get to know what is happening in the Kurdish region with my articles. This makes me happy. Sometimes people think that I am a "terrorist", but then when they see me they get confused. This is Turkey…
I am just trying to have a link with the hearts of ordinary people like me. I am Kurdish, I live in this country and try to establish a link with their hearts, so it is important for me to reach Turkish and Kurdish youth.
Zehra Doğan, a Kurdish journalist and artist who was in jail for "exceeding the limits of artistic criticism", recently asked in The Independent for "international powers (…) not [to] forget the many journalists, artists, students, academics and politicians under arrest as a result of their thoughts (…) and do what you can to help them". What is the best way for "international powers" to help those people – people like you?
There are many international institutions working for Turkey, but there are some problems for them to reach this region. In Turkey, most of those institutions have their offices and representatives in Istanbul. The Kurdish region is far away, but the worst human rights violations are happening here.
It is not easy for Kurdish journalists and human rights defenders to reach Istanbul. When we look to the region, we are less educated than in the West, we do not have relations with international institutions (as they are so far away). If they have offices in Turkey, they are in the West of the country and mostly Turkish people are working there, so they know about the Kurdish question from Turkish people, not Kurdish. Believe me, sometimes it is easier for me to reach Brussels than Ankara. They do not want to hear us. I am lucky because, in my life, I have been able to establish relations with international organizations and take their support. For example, in 2018, I received the Front Line Defenders Award and I know that protected me on the field and in front of the courts. Many times, when I was detained, that international solidarity protected me, but usually Kurdish journalists are not as lucky as me, because they are not well known, they do not know English nor have those relations. They are more under threat. Some of them are in prison for more than 5 years. How many people in the world hear their voice? It is hard to be a journalist in Turkey, but it is even harder to be a Kurdish journalist. We cannot compare, Kurdish journalists face more threats.
For example, some weeks ago two Kurdish villagers were thrown from an army helicopter in Van. The Kurdish journalists who wrote about the issue are now in prison. So, the journalists are in prison but not the soldiers who threw the villagers from the helicopter? How many international institutions hear the voice of these journalists?
What they can do is to open offices in the Kurdish region or have representatives here. And if they come to Turkey, they can travel to the Kurdish region. They have to. If you are talking about human rights in Turkey, the worst violations are happening here, so you have to travel here. They can also participate in court trials, it is important to follow them and, that way, they can appreciate what we do. Oftentimes just to say "thank you" gives energy to keep going.
Sometimes I feel so bad, I ask myself why I am doing these things, because my struggle usually bring trauma and fear to my children. I question myself if I am a good mother. And getting a message from someone abroad saying "thank you" gives me energy to continue my work. As Kurdish people, usually we don't hear this kind of things in Turkey.
Which kind of help do you expect from international institutions?
When my hometown Sur -a historical place under UNESCO protection- was demolished, UNESCO said nothing. Sur was under bombardment for more than 100 days and we heard nothing from them, they did not do what they should do. However, those international bodies can do more about what is happening in Turkey. They could ask the Turkish government: "what is happening in Sur? Why is there curfew there?". They can ask about the situation of human rights defenders.
I am lucky because when I was detained the UN special rapporteur Mr. Michel Forst followed my case, he tweeted about my case a couple of times, and all those things helped me to be released. I think we should widen this solidarity. Unfortunately, I think all these international organizations pay more attention to the states than to individuals or the NGOs.
Other problem is that after the coup attempt most Kurdish NGOs (working on fields such as youth, poverty, cultural and linguistic rights, etc.) were closed. When we talk to the European Union they say they give support to NGOs, but I have to tell them that we do not have NGOs anymore in the Kurdish Region, they are closed.
If you come to Diyarbakır, you will see police barricades everywhere. If you go to eat a kebab in a restaurant, special operation teams can come, with big Kalashnikovs, and demand your ID. You can say nothing to them, you have no rights. The NGOs are closed, you will see huge poverty and thousands of homeless people. And then international organizations are asking why we are not applying to them.
People are leaving the region. If I go out, I can see 1 or 2 friends, because they are all in prison or left the country. All educated people are leaving the Region. And we have no one we can have a coffee with, people are at home, afraid of everything. There is a big silence in the city now. If you want to know the situation you should come and visit this region. If there are no NGOs you have to visit and learn what is happening from the activists, human rights defenders.
---
[1] This is the last sentence of one of two tweets, published by Nurcan, which were used by the Turkish authorities to open an investigation against her under the accusation of ""inciting hatred and enmity among public".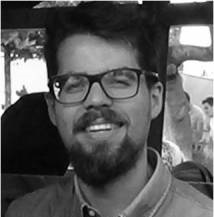 Latest posts by José Miguel Rocha
(see all)
What's your reaction?
0
Smile
0
Angry
0
LOL
0
Sad